Happy Healthy Smiles (Dental Clinic in Gurgaon)
A dental clinic in gurgaon has a very important role to play in the maintenance of not only oral health but your overall health also. A dentist aims at promoting good dental hygiene that helps prevent complications in your mouth and other parts of the body. Visiting your dentist for routine check-ups not only keeps your mouth healthy but impacts your general well-being as well. After all, your mouth is a window to your overall health. A dentist in Gurgaon has the potential to diagnose problems concerning the gums, teeth, and jaws.  Once the correct diagnosis is achieved, a dentist plans the best possible treatment to restore the oral health of the patient.
Finding the best dentist for your needs can be a tedious task if you do not know what to look for. You need to find a dentist who can help you with your oral care. Dentistry is a team task and needs specialized care. Dental clinic in Gurgaon targets a holistic treatment approach. Our team believes that "an appropriate diagnosis is a key to a successful treatment", hence, complete history taking, performing examinations, and keeping radiographic (x-ray) records becomes our prime requisite. Most of the dental treatments find a one-stop solution at our dental clinic; these include restorative (tooth fillings, crowns, bridges), orthodontic (braces, Invisalign), endodontic (root canal) , prosthodontics (dentures, full mouth rehabilitation), oral surgery (painless extractions and impactions), periodontal (gum). This dental clinic becomes a hub for various advanced procedures like dental implants, lasers, cosmetic and esthetic dentistry (Veneers, Lumineers, Laminates, Bleaching), and conscious sedation.
Dentist offers different types of services that you should consider when choosing a dentist.
Brief of services performed by dentist:
Oral Prophylaxis: It includes general Scaling and Polishing of teeth. Scaling or professional cleaning of teeth is done either by hand instruments or hand scalers or electronic ultrasonic scalers which vibrate at ultrasonic speeds to remove the plaque and calculus stuck on the teeth.
Polishing is done post scaling. Polishing reduces the roughness of the teeth, removes extrinsic stains, and makes them shiny. Polishing reduces the chances of plaque and calculus deposition on teeth by many folds. It also whitens the teeth to some limited extent.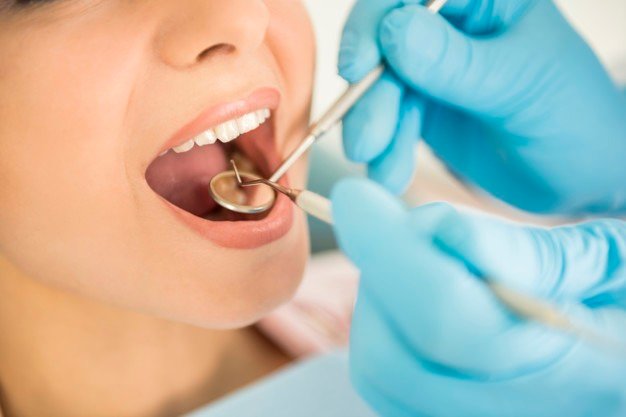 Fillings and Restorations: Cavities damage your teeth. You might experience small holes or black or brown patches or food lodgement in or around your teeth. Trauma can also lead to loss of tooth structure. Tooth-colored restorations/fillings are used to restore the structure and functions of the tooth.
Bleaching: Bleaching is also known as teeth whitening. It is a cosmetic treatment where a dentist applies special materials to remove both extrinsic and intrinsic stains of the teeth and makes them whiter and brighter. A whiter smile is just an hour away.
Extraction: Extraction refers to the removal of a tooth. It is a painless procedure. Your dentist administers local anesthesia to numb the tooth and remove it using specialized instruments. Antibiotics and pain killers are prescribed as per need.
Root Canal Treatment: Root Canal Treatment, RCT, refers removal of the infected pulp(nerves and vessels) of the tooth. The roots are sealed from inside using a special material and the tooth is restored using a restoration or crown as per need. RCT in Gurgaon is performed when a tooth pains while chewing or while having hot and cold food and beverages. RCT is usually performed in one sitting only i.e single sitting RCT.
Crowns and Bridges: Crown refers to a prosthesis that covers the tooth to restore its function. Crowns are given when a tooth is beyond repair by fillings/restorations. Crowns are usually given post root canal treatment. Other kinds of like inlays and Onlays are also used when there is a large cavity but the tooth is not paining or post root canal treatment in Gurgaon.
There are three types of crowns depending on their material: Metal crowns, Ceramic fused to metal (PFM), Metal-free crowns (zirconia, Emax, etc)
Bridges refer to multiple crowns which are joined together. Bridges are usually given when there one or more missing teeth in between healthy teeth. Support is taken by the adjacent teeth and missing teeth are replaced by using a bridge.
Dental Implants: Dental implant in gurgaon in common is the replacement of a tooth/teeth root by a titanium screw which is placed on the jaw bone by a special surgery. Implant placement is followed by a dental crown. Dental implants are used to replace one or multiple missing teeth in the mouth. Dental implant functions are similar to a natural tooth. It is a painless and safe procedure.
Metal and Ceramic Braces: Braces are the most conservative approach to getting a beautiful smile. Vmedica has the best orthodontist in Gurgaon. Metal or ceramic braces are placed on the teeth to align them and wires are replaced every 3-4 weeks. It usually takes 8 to 18 months for the complete treatment depending on requirements.
Self-Ligating Braces: It is the newest technology in the field of Orthodontics in gurgaon. These braces are smaller in size than conventional braces. Lesser forces are required to align the teeth. The patient is more comfortable and treatment duration also reduces.
Veneers and Lumineers: Lumineers are the latest form of Veneers. It is as thin as contact lenses. It usually needs no or very little tooth drilling and needs no local anaesthesia. Lumineers are custom made for every patient and simply cemented onto the tooth/teeth. Lumineers are the most conservative form of cosmetic procedures.
Vmedica, Best Dentist in Gurgaon for your tooth problem
Did you know? Your oral cavity reflects the existence of a lot of systemic conditions, like diabetes, stress and anxiety, gastric and other nutritional abnormalities, etc. What makes us unique is that besides providing you complete dental care, we work in association with Diabetologists, Gastroenterologists, Dieticians, and Clinical psychologists to eliminate the root cause for a lot of significant oral diseases. Vmedica also provides best orthopedic doctor in gurgaon.
At Vmedica, we take utmost care in providing a clean and comfortable environment to the patients. Our equipment and techniques are up to date with international standards and we strive hard to provide ethical, conservative, painless, and best dental care.
Our patient stories always claim friendly and caring dental practitioners who make the treatment painless, comfortable, and acceptable to them. No matter how simple or complex your dental requirements are, we are best dentist in Gurgaon – your smile is always our priority!
Aligners are the new fashion statement.
Invisible braces, also known as clear aligners, slowly shift the position of your teeth over time, just like traditional metal braces.
Now Boost your Self-Confidence with more comfort and style!!
Dental Services
| | | | |
| --- | --- | --- | --- |
| Scaling | Polishing | Flap Surgery | Implants |
| Teeth Whitening | Laser Treatment | (PFM CROWNS) CADCAM | Zirconia Crowns |
| Veneers (Direct & Indirect) | Root canal Treatment | Post and Core | Apicoectomy |
| RE-RCT | Restorations | Impaction Surgeries | Extraction (Single & Multiple Root) |
| Wisdom Tooth Removal | Metal Braces Basic | Metal Braces Self-Ligating | Ceramic Braces Basic |
| Ceramic Self Ligating Braces | Aligners | Lumineers | Full Mouth Rehabilitation |