Always being concerned about what NOT to eat for healthy teeth and gums? Look at the brighter side and focus on the food items that can do wonders for your oral and overall health. 
Read along to identify what the power of a healthy diet can do for your teeth and gums and your overall well being. We are all aware of the fact that eating nutrient-rich foods does wonders for your general well-being. Ever wondered how does your diet impacts your teeth- the organs that assist in eating food?
Department of Dentistry at Vmedica clinics & diagnostics, Dlf phase 4, Gurugram, wishes to keep your oral health on point and hence, throwing some light on the importance of the common ingredients in your food, that keep your teeth white, strong and healthy, and why you should incorporate salads and fruits in your daily routine. 
Salads mainly comprise of fruits and vegetables, which contain vitamins and minerals that promote healthy teeth and gums. Besides having a high nutritional value, eating raw, fibrous vegetables, increases salivation by many folds. Fibers in vegetables and fruits, like apples, carrots, leafy greens facilitate a cleansing action on your teeth by acting as natural toothbrushes.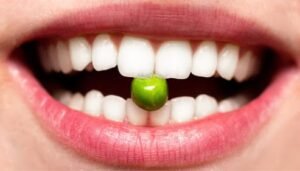 Carrots, Broccoli, Spinach, Kale, and other leafy greens contain high proportions of folic acid which helps in fighting against gum diseases and calcium which forms an integral constituent of tooth enamel. 
Also, Crunchy veggies and fresh fruits have up to 70% of water content in them that supplements for overall hydration of the body. They also help in cleaning the gut. Thus, helping with constipation relief and prevention. What has that got to do with your oral health, you ask? If you are relieved of constipation, halitosis, i.e. bad breath is always at bay. 
Although eating salads is good for your teeth as well as your gut, you should consider what you put into your salads. Salad dressings contain high amounts of vinegar and sweeteners. Acidic and sugary foods only feed oral bacteria, thus, increasing their colonization and escalating your chances of developing cavities and gum problems. Such dressings are very acidic and can alter the pH of your mouth from alkaline to acidic, putting your teeth at risk of erosion and decay. 
Having healthy teeth throughout your life needs to be your ultimate goal. Please keep enjoying tasty as well nutritious and rich foods that benefit your body as well as your teeth. You can contact your dentist to know how the right diet keeps you on track with excellent dental as well as overall health. A healthier you, is a happier you and when you are happier, you smile more, and that's what Vmedica clinics & diagnostics believes in: Your health is our priority! 
Contact us at (+91) 9821206779 for your next check-up and cleaning. Our friendly staff will co-ordinate with you to make an appointment time that best fits into your schedule. We look forward to being your family dentist!
Keep smiling